Silicone Beads Manufacturer,Food Grade Baby Silicone Beads Wholesale
Baby begins to grow teeth at the age of 3 to 7 months. At this time, the baby starts to drool and is restless. He likes to bite hard things or always gnaws his fingers. You have to give him something to massage the gums to relieve the discomfort. Baby teething beads are very helpful at this stage of the baby. Can exercise the baby's chewing ability and jaw and gums, so that the teeth after eruption arranged in order to avoid tooth dislocation.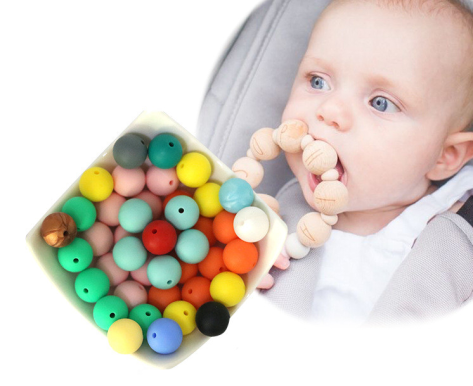 Why Choose Silicone Material for Teething Beads
Silicone has good biocompatibility, no irritation, no toxicity and no allergic reaction to human tissues;
Silicone has good physical and chemical properties. It can keep its original elasticity and softness in contact with body fluids and tissues, and is not degraded;
Silicone can resist high temperature, can be disinfected, and is easy to process;
Using the characteristics of silicone, it is soft and comfortable, close to the feeling of human skin, with good taste,wear resistance, not easy to damage, so that the baby in the use silicone teething bead is more safe and assured.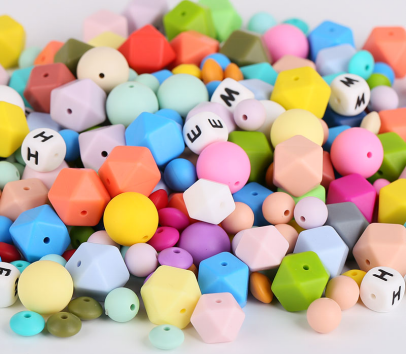 How to Make Silicone Beads
1. Mixing: 95.5-98.0 parts by weight of silicone, 0.5-3.0 parts by weight of silicone color masterbatch and 1.0-2.0 parts by weight of vulcanizing agent are mixed in a rubber mixer at 10-60 ℃ for 5-40 minutes to obtain a mixture;
2. Cutting: the mixed mixture is cut out;
3. One time vulcanization: put the cut mixture into the mold, and vulcanize it for 15-500s at 110-220 ℃ through the oil pressure plate forming machine to achieve the molding;
4. Secondary vulcanization: put the once vulcanized mixture into the oven for secondary vulcanization, and finally obtain the colored silicone beads.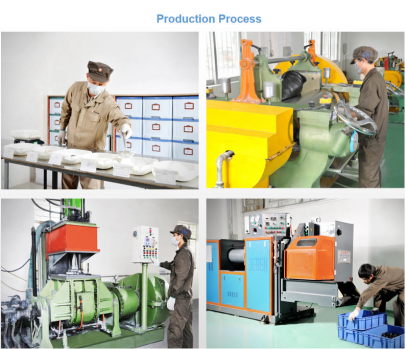 This production process not only makes the silicone beads colorful, but also ensures the monochromatic or polychromatic three-dimensional effect in the colored or transparent silicone beads, so as to enhance the overall transparent vision of silicone beads, and make silicone beads more vivid, bright and creative in vision. Silicone beads are applied to baby pacifier clip, baby molar bead necklace.
Wholesale & Custom Food Grade Silicone Beads
As a silicone beads manufacturer,we wholesale food grade silicone beads in bulk.100% food grade silicone material, soft, safe, durable, unique design, a variety of colors, a variety of styles for you to choose! The shape of silicone beads can be sphere, cube and cylinder One or more of solids, cuboids, cones, and other geometric or irregular shapes. Can be used for women's clothing accessories, Party accessories, baby chewing necklace, teething toys, what are you waiting for! If you need to customize your style, please share your drawing or sample!