Inspection and Quality
Quality Assurance
Quality is the life of an enterprise, without quality assurance, meaning enterprise will be no future. Rubber part moulding process is a chemical reaction process, irreversible, different from plastic, if the plastic molding is not OK, the product can be crushed, and then the raw material is reused. So before starting of rubber and gasket serial production.
Therefore, Melon Rubber pays more attention in employees and rigorous training programs as well during rubber part moulding process. Every aspect of training and quality processing is kept up-to-date. This requires passion, teamwork and unflagging determination, and setting and surpassing ever more rigorous standards. It is these human qualities upon which Melon's whole approach to competition, quality assessment and quality control is based.
Rubber Compounds R&D(Formula)Stage
Rubber formula engineer always makes strictly inpsection of different formula, because all we know that the physical and chemical properties of rubber and gasket depends on the rubber formula design, such like tensile strength, compression set, elongation breaking, air aging, UV again, high temperature resistance and so on.
Rubber Materials Preparing Stage
Operation working staff does 100% input self - weight inspection using electronic scale,

Testing of the physical properties of the rubber and gasket formula

Advanced cutting equipment ensure the shape precision of rubber raw material moulding preparing depends on rubber parts weight, type, size, precision and so on, in order to improve rubber moulding processing rate with high quality.
Rubber Part Moulding Stage
First-Article Inspection of rubber and gasket(FAI)

full-mode full-size detection before starting serial production.

Production run inspection requirements every 2 hours.
At Melon Rubber, custom rubber gasket specifications can be verified by using our testing center, which enables our employees and our customers to have access to a controlled, quick and accurate inspection process with the ability to produce such data as:
Quality control points:
MQC-

To ensure rubber raw material meets the industrial standard.
IPQC-

To minimise quality defects during production process to avoid reject.
QA

- To insure the rubber and gasket meet customer's requirements and expectations.
IQC

- To ensure incoming rubber components parts meet our specifications.
QE

- To insure professional methods of product quality control procedures and standards.
Quality control flow chart as below: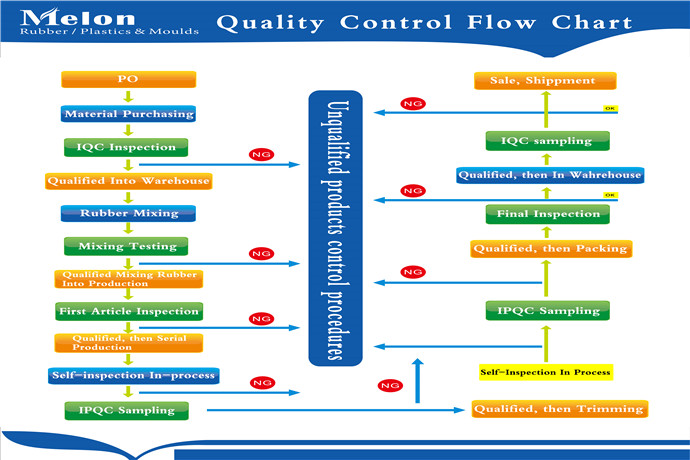 Client' feedback on our service and quality