Wholesale Food Grade Heat Resistant Silicone Grommet
Price:
US $0.08-$0.15
•Made of high quality silicone, BPA Free, food grade/medical grade, durable;
•Excellent high temperature and low temperature resistance, working at - 70 ℃ - 250 ℃;
•Strong weather resistance, strong resistance to ultraviolet and ozone;
•Easy and fast installation.
Description:
Material: Silicone Rubber/Liquid Silicone Rubber(Food Grade or Medical Grade)
Hardness: 15-70 Shore A
Silicone Grommets Work Temperature: -70 ℃~ +250 ℃
Silicone rubber is a soft and elastic material with good sealing type, anti-high and low temperature resistance, anti-aging, acid and alkali corrosion resistance.

Silicone rubber grommets: Silicone grommet is safe and environmentally friendly.
Silicone grommet is usually used to protect wires and cables. It can also be used to suppress vibration and play the role of buffer.
High temp rubber grommets & heat resistant grommets: These elastic silicone grommets can withstand 250 ℃, about twice as much as ordinary rubber grommets,
and will not deform in high temperature working environment.
Food grade silicone grommets: It can also be used for food sealing and human contact,It can be in direct contact with food and skin.
On some food processing machines and kids' toys, we can often see grommets made of silicone.
Medical grade silicone grommets: Because it does not adhere to human tissue, it has anticoagulant effect and is also particularly suitable for medical devices.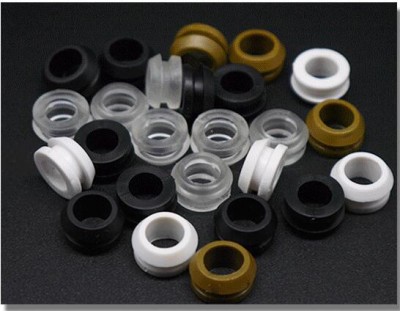 Custom different material / size / shape grommet
As a professional manufacturer of rubber parts, we mainly provide OEM & ODM services. We can produce rubber grommets of different materials according to the drawings or samples provided by customers:
Materials: SBR, NBR, EPDM, Silicone, Neoprene, FKM, etc.
Colors: Clear,Black,White or others
Shapes: Round Grommets, Rectangular Grommets, Square Grommets, Oval Grommets as per customer
Application: Electrical Wire & Cable, Military & Space,Construct; Healthcare & Medical;Consumer Goods.