Wholesale Factory Rubber Metal Bonded Seal Buffer for Toilet Tank Assembly Sanitaryware Fittings
Price:
from $ 0.036
1. Good dimensional stability,Durability.
these bushes are used to solve the load bearing problem in vibrating and oscillating systems.
2.Shock absorption, Oil-resistant; heat resistant; abrasion resistant;
These are used in linkage systems in automotive car suspensions, railway carriages, tractors, trucks, trailers
3. Valid Material: NBR, HNBR, NR, EPDM, Silicon, Viton, CR, NR

1. Wirquin approved rubber&mould accessories vendor. 2. The rubber formula is developed independently, and whole production quality is traceable. 3. OEM/ODM projects are welcome.
4. Working prototype and sample are free of charge.
5. Rubber product is ROHS/REACH approval
6. Rubber&Plastics&Mould factory capacity audit by SGS.
Port: Zhongshan or Shenzhen or Hongkong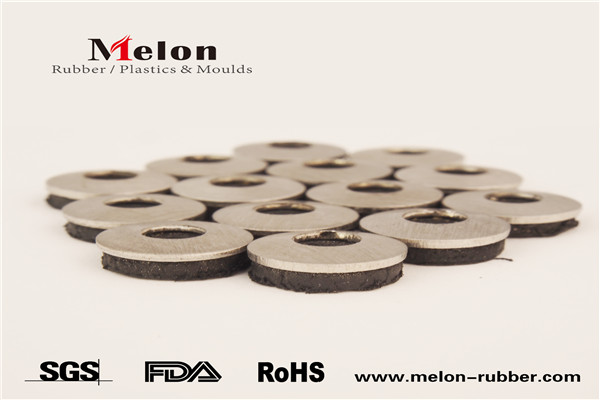 The following is a 4-step process for silicone rubber to metal bonded seals
1. surface treatment for rubber silicone metal bonded seal
the bonding surface treatment can be applied by brushing, spraying, rolling, knife scraping, dipping, etc. Which method can be used according to the size of the part and the characteristics of the adhesive.
commonly used methods: chemical, mechanical and solvent. Mechanical treatment often uses sandblasting, sanding or grinding, etc., especially sandblasting, low cost, fast speed, good effect, and is widely used. Chemical methods are also commonly used, especially for the anodization of aluminum and its alloys, and for the copper plating of steel, which requires chemical methods. After the treated metal surface, the treated surface should be coated with adhesive, affixed with silicone rubber or immersed in an inert solvent.



2. Adhesive and vulcanized metal mit rubber silicone bonded seal
thereis two methods: hot paste and cold paste. metal file should not be too thik, layer by layer to the desired thickness. generally, the thickness of metal seal is 0.1mm to 1.5mm. and the thickness of metal seal is not more than 4-5mm, so as to avoid bubbles in rubber silicone bonded seal. rubber metal bonding vulcanization can be divided into thermal rubber vulcanization and cold vulcanization.
rubber metal vulcanization bonding is the bonding of the rubber to the metal under a certain pressure and temperature. cold vulcanization bonding is carried out by using an adhesive at room temperature for a certian period of time to pressurize it to cause the vulanizate to adhere to the metal . Pressurization is an indipensable condition for the rubber mtal bonding process, and the magnitude and temperature of pressure depend on the article and its formulation.

To achieve the bonding of silicone rubber and metal, pay attention to the following points. For example, the metal surface treated by chemical method should be timely, otherwise it will be polluted by various pollutions such as dust and warm air, and oxidized and rusted. The ambient temperature during sizing should be controlled at 15~35 °C.