30-80 Durometer colored elastic large diameter o-rings,o-ring for excavator made in China
Price:
US $0.1-10 / Pieces
Material: Nitrile rubber (NBR)/Viton/Silicone
Large O-ring hardness: from 30 Shore to 80Shore Durometer
Properties: O-ring with good elastic and resilient
O-rings sizes:ID (mm): 0.8~572mm/Cross Section (mm): 0.4~17.27mm
Comprehensive specifications easy to organize and find the fitting assembly
Melon Rubber&Plastics is leading manufacture in china, offering various O-ring size 30-80 Duro colored elastic large diameter o-rings with high temperature resistance, abrasion resistant and oil resistant Nitrile/EPDM/Viton/SIR/FKM/NR/CR/with reliable quality.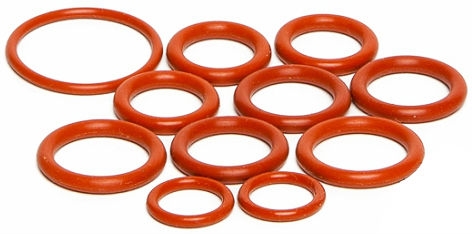 Why choose our moulded large O-rings?
Our O-ring are made from high-quality, durable rubber and are made to last. and we can offer Large Diameter O Rings and O-Ring dimensions from ID (mm): 0.8~572mm/Cross Section (mm): 0.4~17.27mm, more than 1000 existing size, tooling costs are avoided, available in a variety of the most commonly used materials. (Silicone/Neoprene/Nitrile/EPDM/Peoprene/HNBR/Viton/FKM?VMQ and so on)
Simple O-ring material properties description as below, further information, pls contact our sales.
Silicone O-rings:Silicone offers lower themal conductivity, toxicity, and chemical reactivity. it also resists demage from oxygen, ozone and UV light
Neoprene O-Rings: Neoprene with good tensile properties, oil resistance, heat resistance, ozone resistance, chemical resistance, and flame retardant properties.
Nitrile O-rings: NBR with excellent resistance to abrasion, non-polar oils and solvent, water and permeation (higher acrylonitrile content will be better). NBR also can be used in conditions of dilute acids, alkalis and salt solution at low temperatures.
EPDM O-rings: In phosphate-ester based hydraulic fluids and glycol based brake fluids systems Ethylene Propylene Rubber is good choice for sealing parts. EPDM is also is usually used in hot water or steam applications up to 150 C.