RFQ Custom Case of Compression Mold Rubber Mould for Overseas Customer
Do you need custom rubber silicone mold?How to custom mold in Melon?
See follow Custom Mold RFQ
Good morning Lily.
I have attached the stp files so that you can quote a 4 cavity compression mold per the request below. This would be for the mold only.
We would be requesting a 4-cavity compression mold with a shrinkage factor of 3% per our molded silicone.
Our customer is in a big hurry on this one, so please quote your best lead time. I'm sure you will have questions so please do not hesitate to ask.
Thank you, Lily. I hope you have a great day!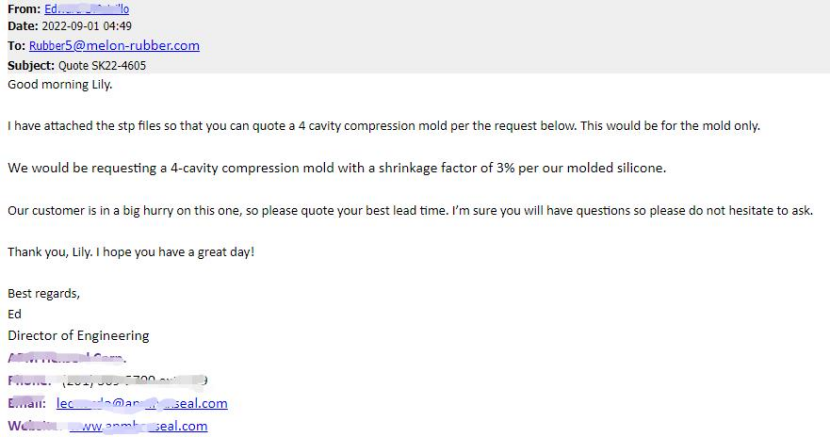 After receiving the project drawings from the customer, our engineering department immediately carried out project analysis.
Good morning, Ed,
As your customer is in a hurry, the mold price follow for reference:
Mold Tyle: compression mold
Mold Material: 718 steel
Cavity Quantity : 4
Export Mold Price: USD 2,200
Mold+Sample Lead Time: 20days after mold design approval
If further discussion, we need to know:
1. Hardness of silicone and product tolerance
2. Surface effect of mold
3. The specification of compression molding machine , or processing video (required mold size?...)
Other possible factors...
Waiting for your reply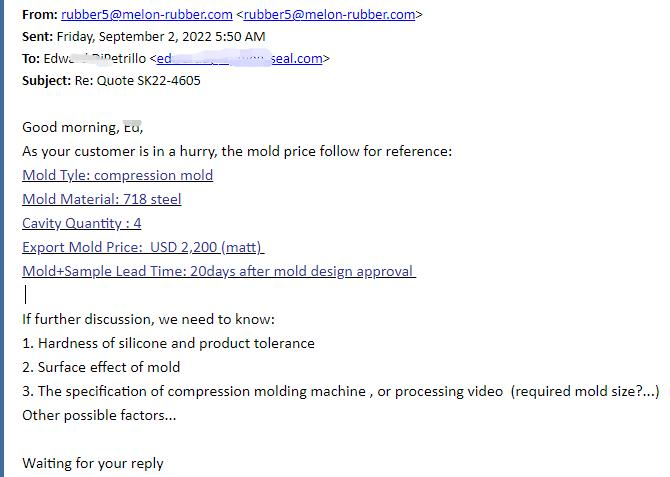 That night, we received the details of the customer's requirements for the compression mold
Good Morning Ed,
After our brief meeting this morning, here are the answers needed to get this project started:
1. Hardness of silicone and product tolerance 
Hardness would be 50 Durometer, product to meet tolerances per RMA A3.
2. Surface effect of mold
      Surface Finish per RMA F1 on part, mold to be polished to a surface finish of 10 micro-inches or better. Part should be free of tool marks, dents, nicks or scratches.
3. The specification of compression molding machine, or processing video (required mold size?...)
      Mold to be used in a 50-100 Ton press as direct compression, no pot/plunger. The maximum size would be 11in. L X 11in. W X 9in H and
minimum would be 8in. L X 8in. W X 6in. H for the presses. Mold material to be P20 steel or equivalent (certified).
We will be working on the 2D Detailed Drawing as requested.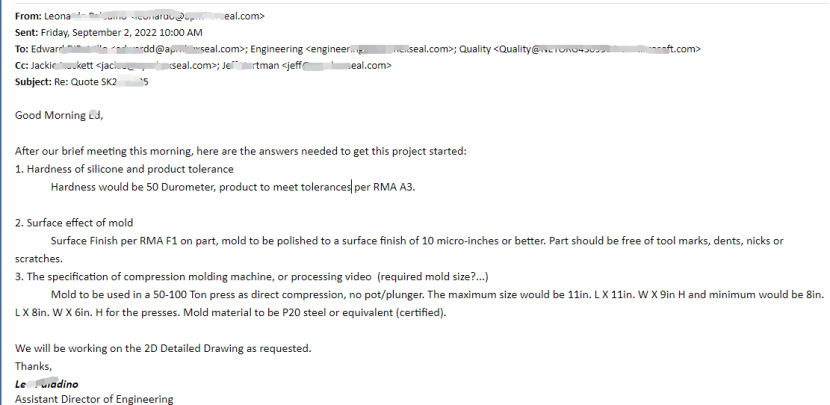 After confirming the details of mold requirements, our mold quotation was also approved. The customer sent us a mold order.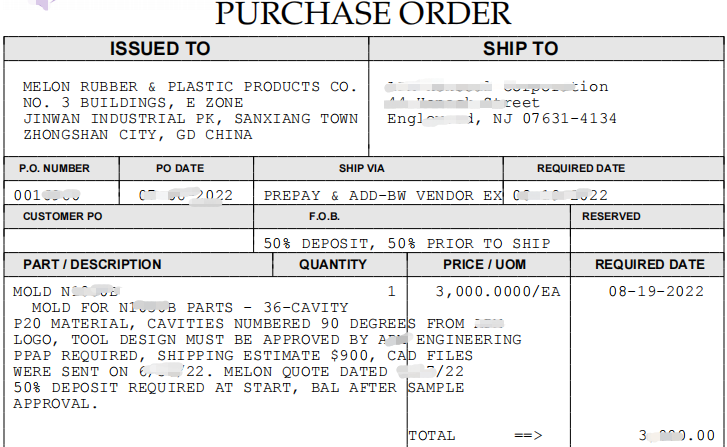 After receiving the order confirmation from the customer, the engineering team immediately started the mold design. Mold design drawings (including 3D drawings and 2D detailed drawings) shall be completed within 36 hours and sent to the customer for confirmation.
Of course,the customer also has some questions about the mold design we provide
Hello Lily,
Here are questions that our Engineering group had after the Design Review of your mold drawings:
The drawing to base the tool design is 11*01 rev Q. This is the N1030B drawing and was confirmed by APM Engineering. The CAD files have already been sent to you. Please disregard all Q1004 dimensions because there are differences between the Q**4 and the N**30B drawings. Updated drawings were resent on 9/13/22.
Is Melon factoring any shrink factors for mold dimensions? Our experience shows a slight shrinkage.
The cavities are machined into one solid plate. Wouldn't this impair cavity and pin repairs? ​
Is there a method used for the insert hex alignment? Do you have recommendations?
There are 8 guide pin holes, what are all of these used for? Are they for your internal machining process? We did not see any detail on this.
There seems to be a lot of clearance between the pins and the inserts (.012"). Please explain why.
Some views show mold handles. Can we get more detail on size and location , so that we can look at potential clearance issues?
Do you have the ability to make this a hinged mold for ease of opening and closing? Of course any design changes would require a re quote.
Do you use hydraulics? If so, what features would you add for ease of operation?
What is the plunger material made of ?
Please address these questions and if you need clarification, please let me know.
We are excited to start on this project with you, and if all goes well we can see this opportunity expanding!
Thanks for all your help Lily.
We provided the customer with a detailed DFM analysis, and more project analysis, final customer agreed to the mold design scheme. We also started mold processing as planned.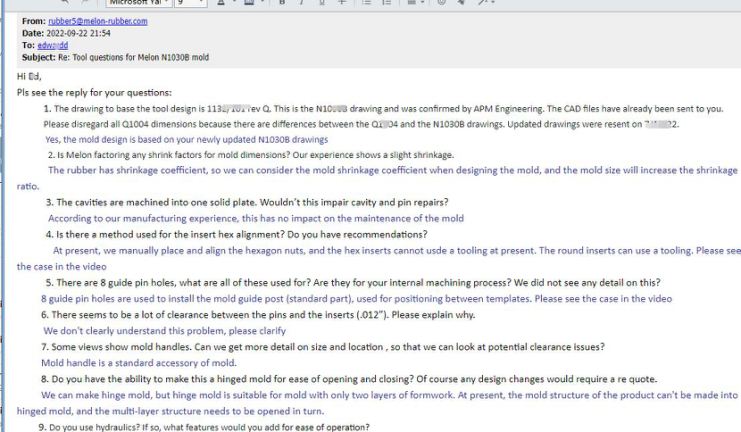 After 15days, The mold and sample are completed and sent to the customer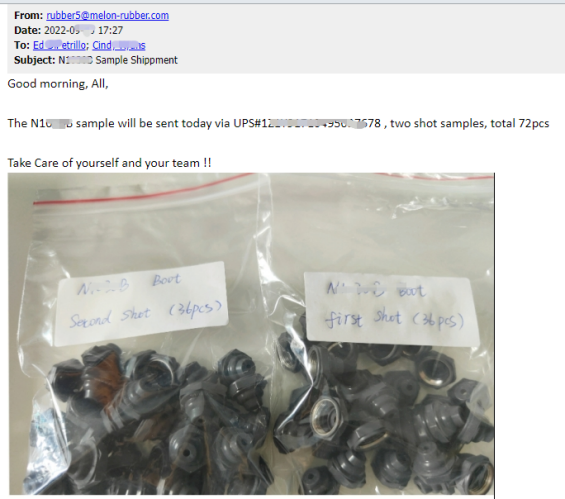 The customer received the sample and tested it. The good news is that the customer reported that all these samples passed the test pressure test, leak proof test and startup test.
Good evening, Lily, how are you?
Yesterday afternoon I followed up on the actuation testing and the parts looked good after 40,000 cycles. This is good news!
I will be entering a PO today for the 5000 pcs of each.
Also, could you tell me the status of the N**30B mold? I know we are getting close!
Thanks Lily, have a great evening.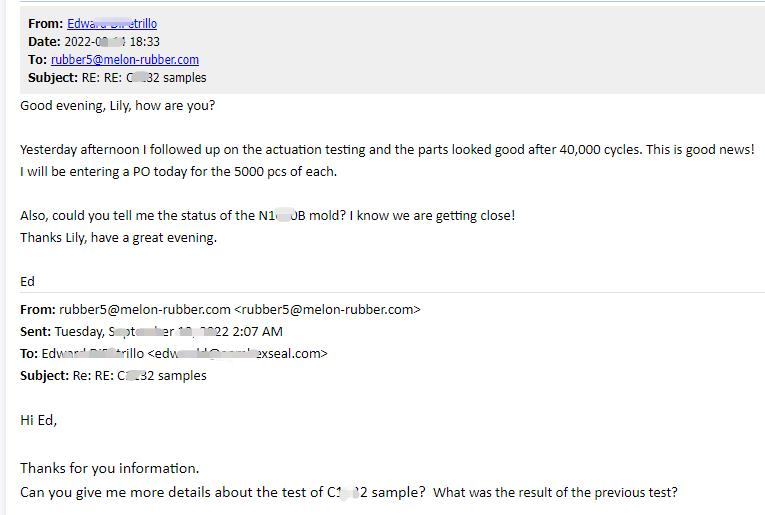 At present, we have packed the mold and shipped it to the customer
Melon specializes in customizing various rubber molds, compression molds, injection molds, and over molding molds. Any demand, please contact us