Engineer rubber cover of Lebanon' Client-do not have a drawing and small batch only 50 sets
Difficulties of this client:
1.50 Set quantity is very small, existing rubber manufacturer does not provide customized processing ----Melon' engineer advise to develop rubber prototype compression mould
2. Client do not HAVE rubber cover drawings--- melon Engineer help client to make drawing
3. Only 1 set sample is slightly damaged.-- Scanning sample to draw 3-D drawing file for rubber cover and double confirm before mould development
4. Delivery Time is tight--- VIP Service: 7days for preparing 3-D drawing of rubber parts, 12days to develop rubber mould
5. No Idea which rubber compounds could withstand see water and sun-- profession rubber compounds design to help client
Lebanon client' Original RFQ:
Dear Sir,
We are interested in manufacturing a rubber component similar to the attached drawings in a black rubber that can withstand see water and sun.
The rubber is around 6cm diameter and a height of 4cm.
Could we have an idea of the cost of the mold and what would be the cost of the rubber per unit.

Melon rubber Reply in ONE HOUR:
Firstly to recommend right rubber material according to rubber compounds request
Re black rubber withstand sea water and sun
recommend material is EPDM or CR,
Re hardness: 70±5 SHore A or others?
Re Mould and Unit Price of Rubber part
could you please kindly advise your required quantity
and then me could quickly evaluate and reply you soon
It's convenient. could you please kindly advise where is to be used this required rubber part?
Lebanon client RFQ about rubber cover mold
Hello Anna,
We are fine. Hope all is good at your side also.
Regarding the drawing no we do not have a drawing. The manufacturer is not willing to produce black parts for us or give us the drawing. Therefore, you need to reverse engineer the set.
The important thing is the outside diameter and that the two rubbers fit together so that when they are pressed together, we get a watertight connection. In the rectangular hole there is a switch that fits there, and two wires will pass through the two small holes.
What will be the cost of the drawing?

Melon rubber Reply :
the cost of drawing: 200USD
lead time: 7days
once part drawing is confirmed by your sides, we could go ahead with mould development at first time
Material: Rubber withstand sea water and sun
Harness: as received samples 70±5 SH
Color:Black or as sample in Grey
Quantity: 50sets
when confirmed the mould development, the follow schedule is:
mould development time: 12days
mould cost: 800USD
50pcs :150USD
when mould ready, engineer will firstly make 2 sets samples for your trial assembly testing before 50sets production
everything is OK, and then to go ahead with 50set production.
Lebanon client confirm Rubber Mold Project Order To Melon Rubber
Melon rubber takes 5 steps to submit a complete sample and start small batch trial production
1.To scan received light damaged rubber cover sample from client to draw 3-D drawing file and double confirm before mould development.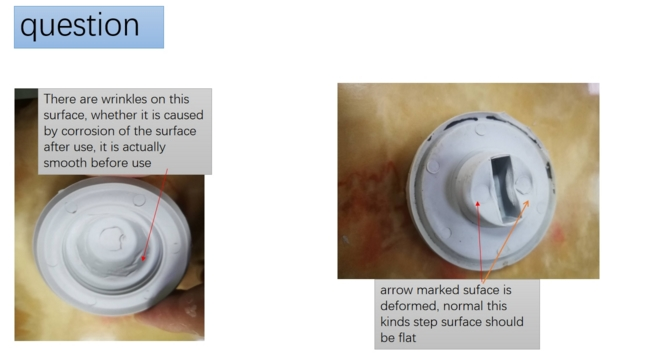 PS: Because of the Lebanon explosion, the communication between them was slightly delayed
2.Client confirm the 3-D drawing, rubber mold development has arranged immediately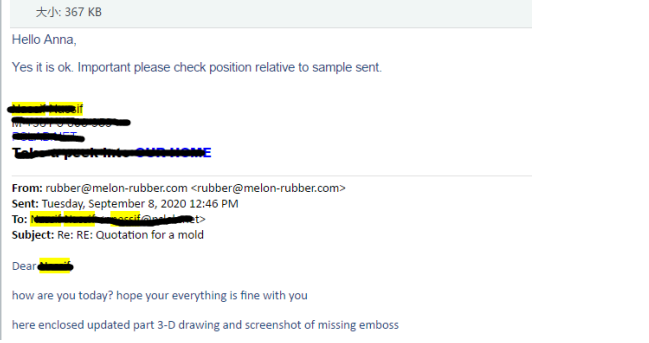 3.Meanwhile updated the the rubber mold processing schedule to client for reference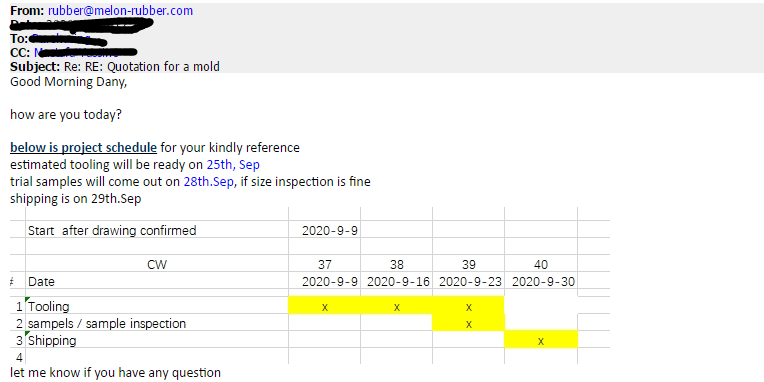 4.And then to make trial production of prototype compression mold for rubber cover and send to client for reference

5.Good News--Rubber cover sample is approval by client

Melon Rubber manufacturer has technical advantage of R&D experience in rubber mold, rubber compounds design, rubber cover molding to provide customized service for small lot rubber & plastic order and quote within 24 hours.
Please feel free to contact our engineer by Email: rubber@melon-rubber.com